Due to stricter security controls on macOS Catalina 10.15 and above, command line tools that you download outside of Geneious Prime will not run unless you take some additional steps outside of Geneious first.
When you try to run the tool from inside Geneious you will see a message like the one below (with cap3 used as an example). This will be followed by another failure message that varies depending on the tool.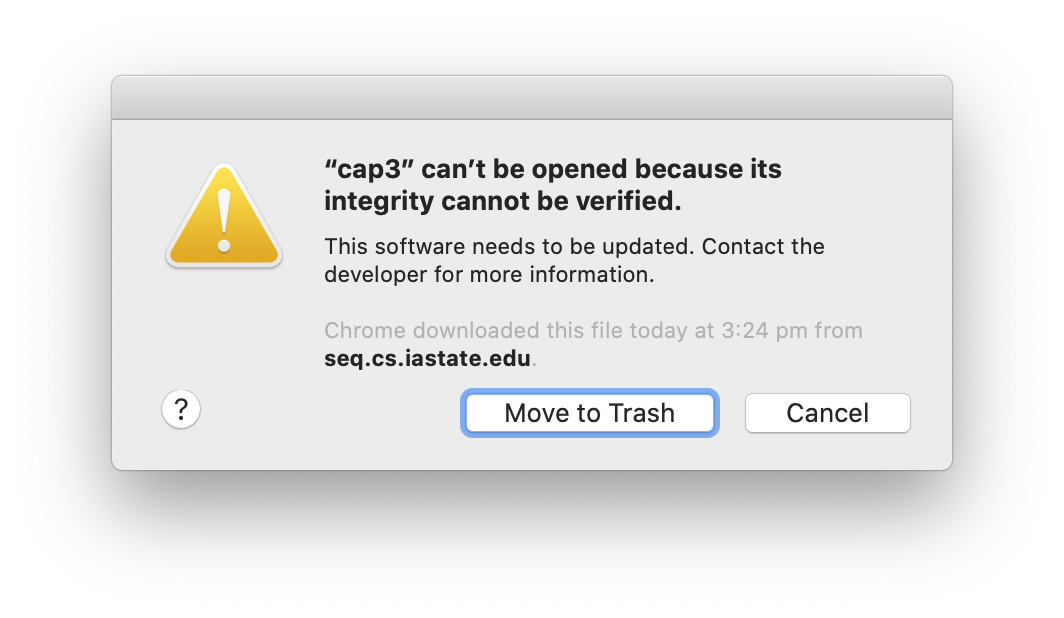 How to fix
Navigate to the app/executable location in Finder (outside of Geneious)
Right-click on the app/executable and choose "Open"
You'll then see one of two possible messages:

If you are asked whether you are sure you want to open the app, Click "Open" (assuming you trust the app of course). You can now run the tool from Geneious and you needn't read any further.
If you are NOT given the option to open the app, then you'll have to perform some more advanced steps using Terminal to bypass the security controls in macOS. Only proceed with this if you are comfortable with what that means. The easiest option is to disable Gatekeeper completely, run the app, then turn Gatekeeper back on again. The steps for this can be found in articles online, such as How to fix damaged app message on macOS Sierra.
Affected programs
Any command line tool you download outside of Geneious will be affected. This includes:
cap3
phobos
paup*
PolymorphicSSR
Mauve
USearch
MUSCLE
All the EMBOSS plugins (Nucleotide Analysis, Protein Analysis, Mutate and Shuffle)